Ofsted Report 2015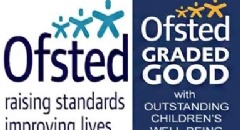 We are delighted to share our latest news
Dear Parents/Carers
As you know we had an Ofsted inspection the penultimate week before half term.
I am now delighted to share the result and final report with you. The school was
graded overall GOOD with OUTSTANDING features. Click on the link below
to visit the Ofsted page of our site. Please also read the letter below.