Important Reminder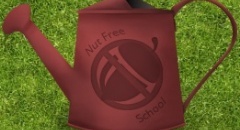 Important Reminder: We are a Nut Free School
NUT ALLERGY REMINDER - NO NUTS or NUT PRODUCTS IN SCHOOL
A reminder that we do have a no nuts policy in school.
This is especially important as we have a child who has severe allergies which may be life threatening..
Thank you to everyone for your co-operation and for being so careful with lunch boxes. I know the families with children with severe allergies are really grateful especially as sometimes it is practically impossible to read the ingredients list.
Just a reminder that many chocolate spreads contain nuts, some Jordan Bars and there are also nuts in Balconi Mix Max Bars.
Thank you for your vigilance which is helping to keep vulnerable children safe.